---
Product name : Advanced Pack AVG Antivirus 2022
---
Your Pack contains : 
                                  AVG Internet Security 2022 for one device
                                  Custom Installation  done by a security expert
                                  personalized settings configuration for your personal use
                                  24 Months Tech support
                                  24  Months free  maintenance
---
AVG® Internet Security Unlimited
   Our best all-round protection for all your devices
 Stop viruses, spyware, ransomware, & other malware
Block unsafe links, downloads, & email attachments
Scan for PC performance problems
Get real time-security updates
Block all remote attacks with our Remote Access Shield
Keep hackers away with Enhanced Firewall
Securely shop & bank online
Avoid fake websites for safer payments
Block spam, scams, & phishing emails
---
Protect every aspect of your digital life
AVG Internet Security blocks viruses and malware. It also protects your email, personal files and passwords, prevents hacking of your webcam, and secures your online shopping and banking.
One subscription.
Always up-to-date.
Instead of making you wait for a single big-bang release each year, we now push updates to you automatically. That's also why we've dropped the year from our product names, because as long as you're subscribed to AVG, your security is always up-to-date. And new features? You'll automatically get those whenever available, too.
Computer protection
Web and email protection
Protection from hacker attacks
Privacy protection
Payments protection
---
Our first protection for your PC
Advanced antivirus: detection of viruses, ransomware, spyware and other malware on your PC.
Suspicious Actions Agent: Sends alerts when software on your PC behaves suspiciously.
AI-based detection: proactively identifies malware samples to protect you from new threats.
CyberCapture: Automatically analyze new threats to block them.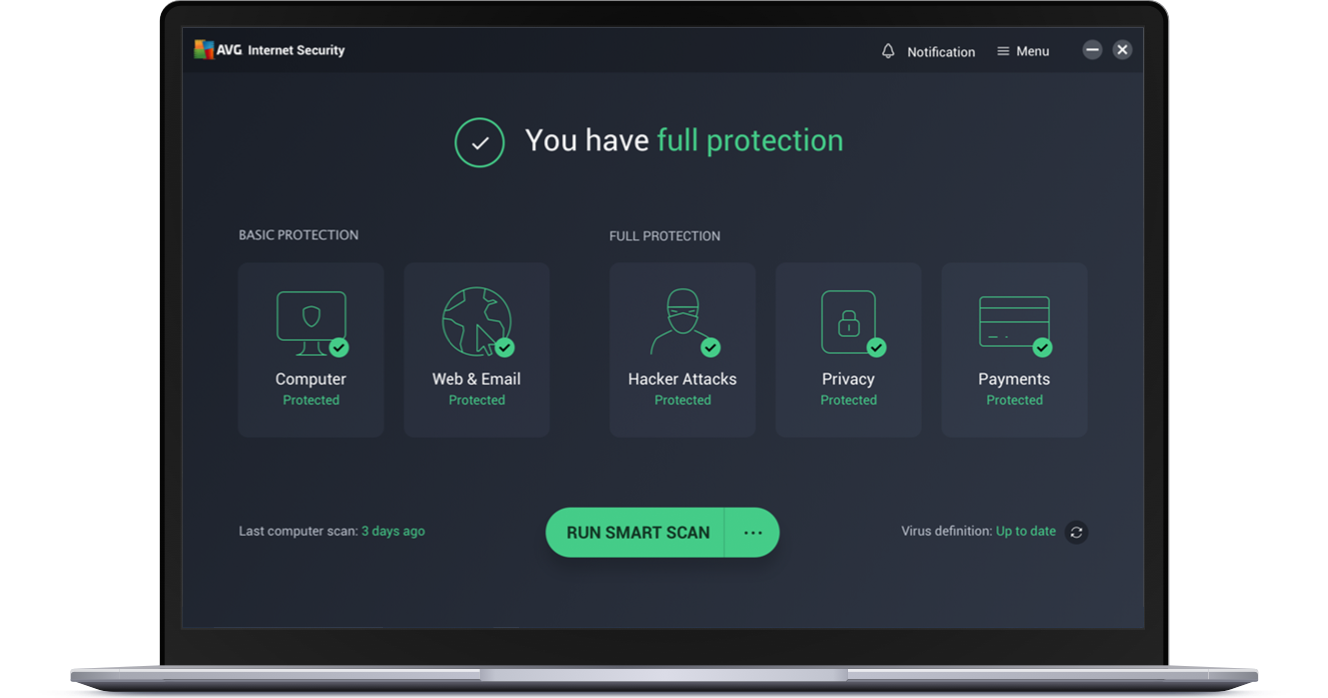 ---
The safest way to connect
Protect your browsing behavior by checking links, downloads, and attachments for potential threats and avoiding unsafe Wi-Fi networks.
Link Scanner: Analyzes all suspicious links to avoid dangerous websites.
Web Agent: scans files before downloading them to the PC to make sure they don't contain malware.
Email Agent: blocks attachments that may represent phishing attacks.
Wi-Fi Protection: Warns when connecting to unsafe Wi-Fi networks.
Toolbar removal: remove potentially harmful extensions and toolbars from the browser.
---
Protect yourself from hackers and ransomware
Control everything that enters or leaves your PC, protect your files and photos from hackers, and secure your passwords.
Improved firewall: don't let hackers access your personal files and photos.
Ransomware protection: keep hackers from locking your files and photos. Determine which applications they can modify or delete.
Password protection: prohibit applications from reading, changing, or deleting passwords stored in your browsers.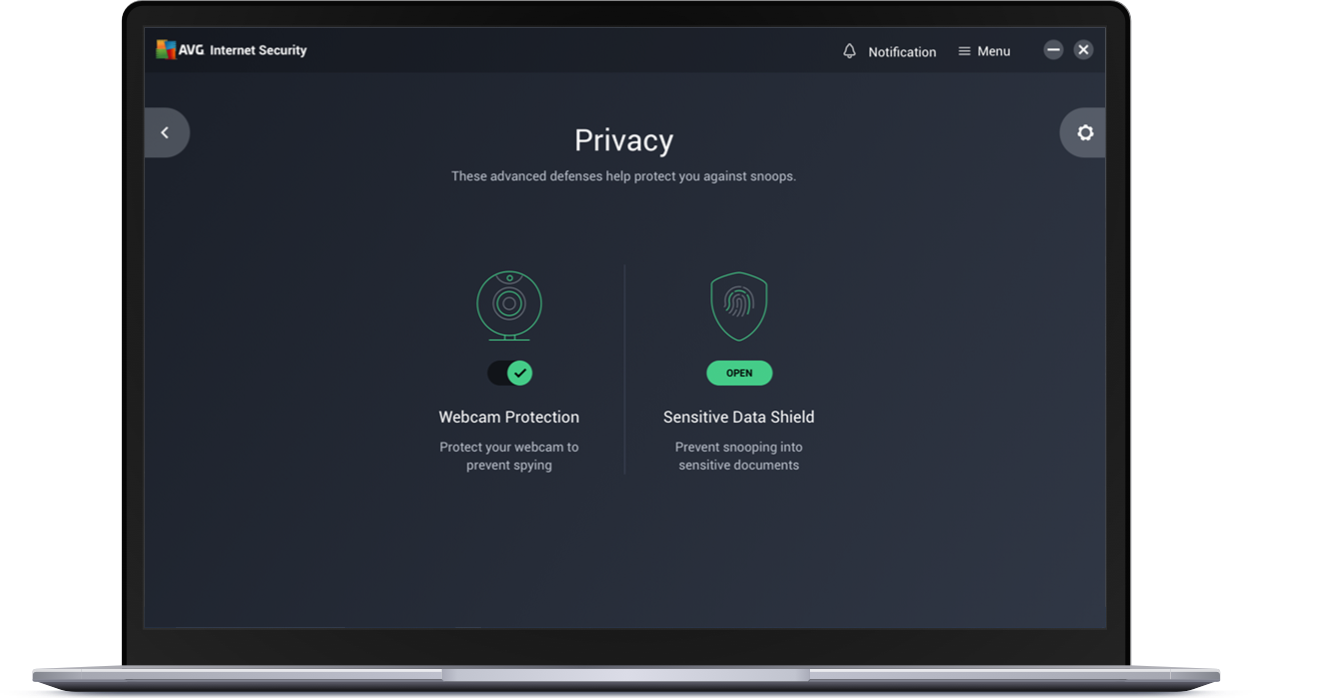 ---
Don't let anyone spy on you
Prevent your webcam from being hacked and securely and permanently delete old data.
Webcam protection: force unapproved applications to request authorization before using your webcam to prevent it from being hacked.
Data shredding: Securely and permanently delete files and data to prevent accidental and unauthorized recovery.
---
Secure online shopping and banking
Increase your digital security to prevent your sensitive data from falling into the wrong hands.
Agent for fraudulent websites: Avoid fake websites by being automatically redirected to authentic websites.
Protection mobile included
AVG Internet Security also works on Android devices (smartphone and tablet), iPhone and iPad. Protect yourself on the Internet, lock your apps and photos, locate your phone if it's lost or stolen, and don't let anyone steal your data.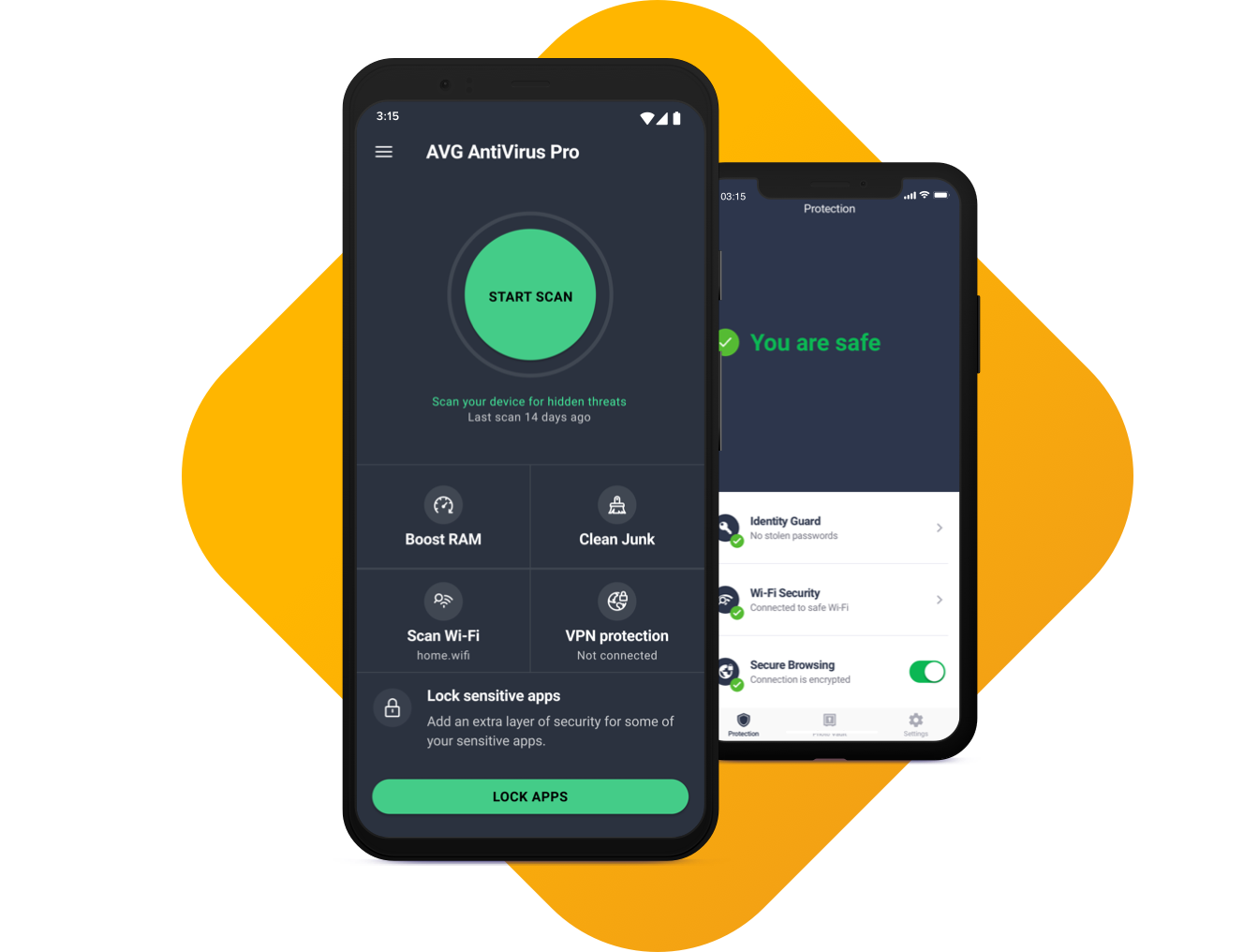 ---
Computer Protection
Our first line of defense for your PC
Our advanced antivirus scans powerfully for viruses, ransomware, spyware, rootkits, Trojans and other malware and removes or blocks them. Since this is all done in real time, we can disable threats in time before they can do any damage to you. We also protect your USB and DVD drives just as quickly.
– Virus & Ransomware Protection
– Protects your private documents
– Secures your webcam

Internet Security – is comprehensive protection for  Windows, Mac and Android devices in your family.Complete Security
We use artificial intelligence, crowdsourcing data from millions of users, and real-time analytics to block more than 100 million viruses, spyware, Trojans, rootkits, ransomware, etc. every day.New Privacy Protection
Our new Sensitive Data Protection protects your private documents from spyware and Webcam Protection prevents strangers from accessing your camera.
---
Features
Web pages are checked before they are visited
Links are checked before they are clicked
File attachments are checked before they are opened
AVG blocks and stops viruses, malware and other threats before they reach the computer and cause damage
Phishing and other unwanted emails are detected and filtered out
AVG provides reliable protection against data theft: even when you are online, personal data cannot be intercepted
Spyware and adware cannot infiltrate your system
Your data is safe from hacker attacks
Valuable documents can be stored encrypted on a password-protected virtual disk – in this data safe they are inaccessible for criminals, hackers, NSA and Co
One license is valid for as many of your private devices and device types as you like – for a full year.